Social App
Michael Walker designed a social app that helps 22,000+ users share and access business information on the go.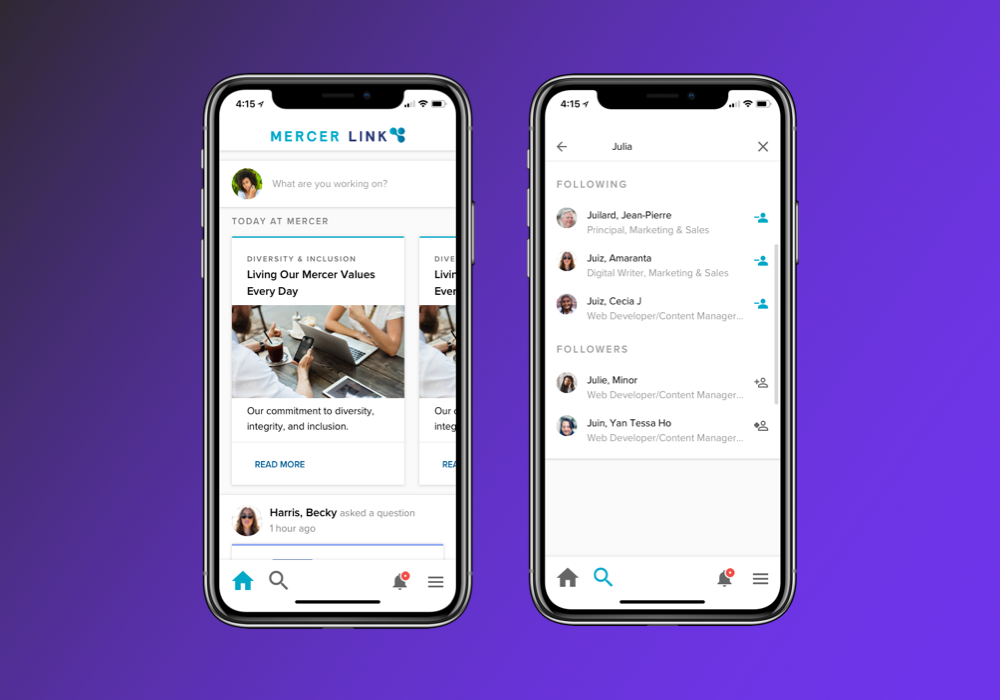 I designed an app that helps 22,000+ users share and access business information on the go.
Overview
The Problem
How might we help users access content from an existing desktop-only platform on their mobile device?
Key Objectives
Create a social interface for sharing business information

Give 22,000 consultants access to information anytime, anywhere

Translate desktop-only interfaces to mobile-friendly interfaces

Design a company-wide communications campaign to promote app adoption

Introduce users to a new visual style and tone
My Role
Audited initial designs to optimize usability

Took the lead on all UI deliverables (mockups, prototypes, ecosystem, brand adherence)

Presented work to stakeholder groups

User testing via mockups

Socialized designs with end users as part of the change management process

Worked with a taxonomist to ensure menu accuracy
The Team
Mike Moore Platform Manager
Sandra Garrett Senior Visual Designer
Richard Fischer Business Taxonomist
Research
Platform personae were developed and referenced throughout the duration of the project

Existing internal social and collaboration tools were audited for consideration in the mobile application

Existing social and file sharing platforms were diagramed to evaluate user paradigms and expectations

Mid-fidelity mocks were used to test functionality with real end users

A beta version of the app was used to collect user feedback
Exploration
Wireframes
Content-aware wireframes show how social features from several desktop sites could be joined in a unified mobile experience. Wireframes were designed by the team platform manager, Mike Moore. I did a usability audit of the wireframes and used them to design mid-fidelity mockups.
Refinement
Mid-fidelity Mockups
Mid-fidelity mockups were used to get general user feedback. We used these designs to launch a beta version of the app and conduct user testing.
Testing & Feedback
I collaborated with the team platform manager, Mike Moore, to evaluate and implement app improvements. The finalized mid-fidelity mock-ups were used to launch a beta version of the social app. Users were encouraged to download the app and provide feedback. I also conducted guerilla testing and informal interviews with users after meetings and at water cooler sessions.
Conclusion
Final Designs
Feedback was integrated into final designs that follow both Material Design and company brand standards. The end result is a social app that unifies disparate platforms to increase colleague productivity.
The final app helps users access a social stream, search engine, documents, and a news database while on the go. The design is flexible enough for new features to be added in future updates.
The app allows for tagging, adding rich media, and defining an audience when posting, as shown in images 13-15.
A search feature allows users to find colleagues quickly and read their profiles, as shown in images 16-18.
Project Assessment
Status: The beta version of the app was launched in 2016 received warmly by end users. The final version of the app was scheduled for release, but was tabled due to authentication issues.
Reflection: The most challenging part of the project was tailoring small details to optimize usability on a variety of mobile devices. If I could have done one thing differently, I would have interviewed users to better understand which features they most wanted to use on-the-go (we relied on analytics data to decide which features to build into the app.)
Next Steps: An upgrade to our security software is scheduled in the near future. After this happens, the final designs will be send to our technology team for development. I will review the design of the final app, complete observational user testing, and work with my team to make iterative improvements to the app over time.
Search Engine Interface
I designed and tested the interface for a search engine that connects users with over 300,000 results.
Analytics Platform
I designed purpose-driven UI that makes a complex tool simple to use on both desktop and mobile.
Housing Database Digital Product
I designed a digital product that helps New York City residents evaluate the quality of property listings.